Back to store
Hay Net for Tarter Equine Hay Basket (Basket Sold Separately)
Specs
Hole Size


1.5"

Holds

4-6 Bales

36x18x18"

Made in

USA

Material

Knotted Nylon Mesh

What's in the box


1 knotted nylon net 1.5" holes

Installation hardware

(Hay Basket Sold Separately)

Perfect For

Horses

Use with

Exchange/Return

30 days to exchange or return

Length

47" long

Width

25" wide

Tall

17" tall
Details
Tarter Equine Hay Basket sold separately. You can create the safest, healthiest, most cost effective square bale feeder on the market by pairing our slow feed hay net kit with a Tarter Equine Hay Basket (pictured and sold separately). The Texas Haynet slows consumption and helps prevent colic, ulcers, and founder. The Equine Hay Basket keeps hay dry and off the ground while allowing horses to eat in their natural position with their head down. 
Together, both products improve digestion and eliminate waste. Our heavy duty hardware keeps the net safely and securely fastened inside the basket. 
Reviews
Customer Reviews
01/19/2023
Lynda Z.

United States
Excellent Hay Net/Basket Combo
The Texas Hay Net really improves the usability and practicality of the Hay Basket. The combo keeps the hay dry, off the ground, in the basket and slows the feeding to mimic a grazing rate. The net keeps the hay in the basket rather than strewn on the ground, soiled and wasted. The net is relatively easy to refill; I like that it's clipped to the basket at the bottom so horses can't pull it out, cinches shut, and the rope can be tied off to one of the basket legs so horses don't get tangled in it. I have four horses who eat from it, and the basket/net easily hold 2 bales; sometimes 3 bales if you leave the cinched hole open a bit. With four horses and the basket/net capacity, I add more hay daily. For my situation, I would like the net to be a bit bigger to hold 3-4 bales so I could feed every other day instead of daily. But it is a great system, and I'm glad to have it!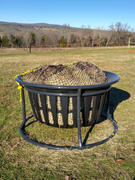 01/19/2023
SALLY V.

United States
My horses like it!
The quality is very good. It does take a little help( an extra couple of hands) but to manage the hay placement and tie up but once in place it works very well. I was concerned my smart horse would dismantle the net and or placement but she discovered getting the hay out as prescribed worked well enough for her
01/05/2023
Camille P.

United States
Quality
I was immediately impressed w the excellent quality of the net. Initially, I was very concerned about the horses being frustrated w the slow feed. They got used to it and all is well. They're not overweight and there's no hay waste. I do pay close attention as to how I tie it off. I want no loops for them to get hung-up in.
04/01/2022
Katheryn B.

United States
Love it. almost.
I love this product. The one thing I think could be improved is the yellow rope. I feel like it's not slick enough for pulling though the net either to open or to closed it. But all in all this product has cut down on hay waist extremely well and I'm quite delighted with that aspect.
10/02/2021
Georgianna D.

United States
terrific
speedy arrival and they work great!!! No wastage like none.
Find out where to get our hay nets, and start using them today!
Find a Store