Back to store
Square Bale Hay Net
1.5" Holes
This slow feed hay net is ideal for feeding an entire square bale. The Texas Haynet Square Bale Net helps prevent colic, founder, and ulcers by slowing down consumption to a natural pace. This bag eliminates clean up and keeps them busy longer. Perfect for the stall or pasture.
Use caution with shod animals.   We recommend elevating or placing this net in a solid feeder out of shoe reach.  Use caution with horned animals and animals with ear tags. 
Fits Square Bales 36" long x 18" wide x 18" tall
1.5" Holes
UV Treated Nylon
Soak-able
Made in the USA
Create the safest, healthiest, most cost effective feeding solution on the market by pairing this kit with a Tarter Dura Tough Small Animal Feeder. Together, both products eliminate waste and hay clean up.  Shop Tarter Dura Tough Small Animal Feeder 
Customer Reviews
Great product
Keeps my 4 horses busy and no wasted hay. 2 nets placed on tree trunks several yards apart also allows everyone to get their fair share.
Work well immediately with the horses
Photo taken a couple of minutes after I put it out. I kept the twine on the bales while I worked the Haynet over the bale as it stood on it's end. Then I flipped the bale on it's other end, cut and removed the twine, and cinched/closed up the opening. The horses immediately began feeding. The problem I'm trying to solve is to be able to put out enough hay twice a week myself so that my elderly mother doesn't have to handle these heavy 40-50lb bales anymore.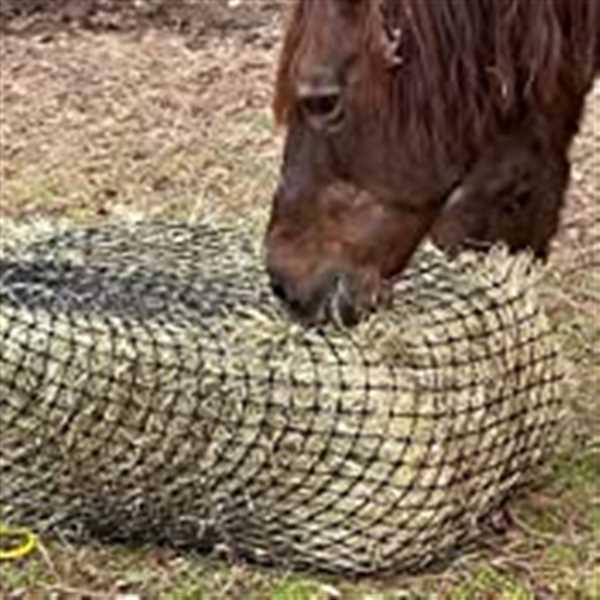 Great product, great quality, highly recommend
I was looking for a way to cut down on hay being waisted. I was apprehensive about using this product, i did not think it would hold up, or they would they would continue to just pull hay out and waist it. I have been using it for a couple months and it's working wonderful. Hay waist has went down to nearly nothing, and have not seen any evidence of wear. Supper impressed
Great hay bag
This is probably the best hay bag I've found so far. Fits an entire bale and easy to tie into a drop-in feeder so the horses don't spread hay everywhere. Would buy another and probably will.
KB
05/30/2019
Karen B.
we love these nets and I believe they really helped our insulin resistant horses to become healthy. They are the most natural way for a horse to eat and a fabulous way to feed daily and especially at horse shows!!
Find a Retailer
Find out where to get our hay nets, and start using them today!
View Stores