Back to store
Large Square Bale Hay Net
Specs
Hole Size


1.75", 3", 2.5" Heavy Gauge Netting

Holds

1 Bale

Square 3x3x8-3x4x8'

Made in

USA


Material

Knotted Nylon Mesh

What's in the box?

1 Knotted Nylon Mesh Net 1.75" or 3" Holes 

Repair twine

Perfect For

Horses, cows, goats, llama, sheep, alpaca

Works well with


Tarter A-Frame Large Bale Feeder

Caution

Use caution with shod animals. We recommend using a feeder with a solid barrier between the shoe and net. Use caution with horns.

Exchange/Return

30 days to exchange or return

Length

47" long

Width

25" wide

Tall

17" tall
Details
Imagine improving your horse's health and worrying less about colic and ulcers. Picture spending less time feeding and more time doing what you love. Think about how much you spend on hay and cut that number in half. Reduce waste, improve digestion and slow feed with our hay feeder.
This slow feed hay net is perfect for large square bales.  The Texas Haynet helps prevent colic, founder, and ulcers by slowing down consumption to a natural pace. Regulating hay in take helps improve digestion, calms aggressive behavior, reduces herd stress, alleviates boredom and unwanted stable vices, prevents serious health problems caused by overeating and burrowing into the center of the bale.
With the Texas Haynet, horses are no longer allowed to engorge themselves and frivolously waste expensive hay. The net is lightweight and easy to install - no heavy equipment required. 
*Use caution with shod animals.  We recommend using a hay feeder with a solid barrier between the shoe and the net.  Use caution with horned animals and animals with ear tags. Use caution with small hooves when using nets with holes larger than 1.75".
Reviews
Customer Reviews
01/21/2023
Connie S.

United States
No waste and huge time saver!
We LOVE these nets for ease of feeding 50 horses. They really eliminate waste and allow the horses to slow feed in the cold winter when grazing is not an option up in the Rockies. We have some nets that are a year old and holding up well still with a few repairs however I think over time and in the sun and rain, the material might shrink some. The older nets don't seem to fit over the same large bales like they did when they were new. If you could find material that doesn't shrink in the weather over time, that would make these perfect!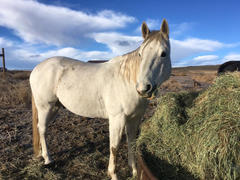 01/19/2023
C R.

Canada
Good quality, have already recommended
So far its been pretty good, we've done 2 bales through the super square net, little bit of a learning curve to figure out how to get the net on the easiest way but its been good once we get that on. Already pointed a couple friends to the site (don't think they've ordered yet though) and will continue to recommend when asked, thanks!
01/19/2023
Robyn S.

United States
Love these nets!
They helped slow down the intake and keep loss to a minimum so that my bales lasted longer and I had no waste! This also helped my mare, that is prone to choke, eat without worry of her choking! Too often, I have had to separate her from the others if I put a bale out for free choice, and now she can stay with her herd mates and enjoy the bale without choking! Such a relief!
11/29/2022
Paulene H.

United States
large square bale hay net extra thick
I just started to use the large square bale hay net. The horses just finished their first bale this evening. So far so good. I love the extra durability this one has. I'd be willing to give another update in a month or so if needed. I'll be putting another bale of hay in this net which lasts about 3-3.5 weeks. Love your products !!!!!
03/22/2022
Mary W.

United States
Like this hay net!
Keeps the horses from wasting so much of the hay by pulling it down and walking on it. Plus slowes them down a bit so they spend more time and simulates natural grazing where they eat smaller portions all day instead of gorging.
Find out where to get our hay nets, and start using them today!
Find a Store