Back to store
Tarter Equine Hay Basket Kit
Basket sold separately. You can create the safest, healthiest, most cost effective square bale feeder on the market by pairing our slow feed hay net kit with a Tarter Equine Hay Basket (pictured and sold separately). The Texas Haynet slows consumption and helps prevent colic, ulcers, and founder. The Equine Hay Basket keeps hay dry and off the ground while allowing horses to eat in their natural position with their head down. Together, both products improve digestion and eliminate waste. Our heavy duty hardware keeps the net safely and securely fastened inside the basket. 

Net Kit Includes:

Knotted Nylon Mesh Net 1.5" Holes
Installation Hardware

Made in America
30 Day Exchange/Returns
Tarter Equine Hay Basket Sold Separately 
Customer Reviews
08/18/2020
alicia w.
United States
Easy to use and durable
This has been a great product so far! The holes might be a little to big though as one of my horses eating too much. Other wise its durable and easy to use!
08/05/2020
Donna C.
United States
Very happy with our hay net. Saves a lot of otherwise wasted hay. Service was great. Thank you.
08/04/2020
Leslie L.
United States
So far so good!
My two horses got accustomed to it quickly and easily and there's no more mess and no wasted hay!
LS
07/08/2020
Linda S.
LG
10/28/2019
Lyonel G.
I love your nets! We are currently running to setups. We have three horses on each feeding basket and net system. It gives us more freedom from feeding, it also ensures our horses are healthy. Also, I can not complain about the savings of not having hay waste. Got to love money in my pocket. I highly recommend Texas Haynet to all horse owners, these nets will change the way you run your pastures, feed and the overall health of your equine athletes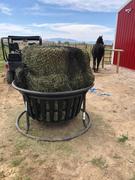 Find out where to get our hay nets, and start using them today!
View Stores