Back to store
Round Bale Hay Net
Picture spending less time feeding and more time doing what you love. Think about how much you spend on hay and cut that number in half. Imagine improving your horse's health and worrying less about colic and ulcers. Our round bale feeder will help you save money, time, and their life.
What's In the Box:

1 Nylon Mesh Net 1.75" Holes
Drawstring Closure

Slow Feed
Made in the USA
30 Day Exchange/Return
This slow feed hay net is perfect for round bales and large square bales. The Texas Haynet Round Bale Net helps prevent colic, founder, and ulcers by slowing down consumption to a natural pace. Regulating hay in take helps improve digestion, calms aggressive behavior, reduces herd stress, alleviates boredom and unwanted stable vices, prevents serious health problems caused by overeating and burrowing into the center of the bale.
With the Texas Haynet Round Bale Net, horses are no longer allowed to engorge themselves and frivolously waste expensive hay. The net is lightweight and easy to install - no heavy equipment required. 
*Use caution with shod animals.  We recommend using a round bale feeder with a solid barrier between the shoe and the net.  Use caution with horned animals and animals with ear tags. Use caution with small hooves when using nets with holes larger than 1.75".


Customer Reviews
08/03/2020
Martha S.
United States
Awesome Haynet
I've been using your large round bale hay-nets for at least 7 years! I have 7 horses' to care for and feed and this hay-net has been a lifesaver! The hay lasts for 7 to 9 days, depending on the weather. I have virtually no waste and no mess in the barn and it's a total money and time saver! I am also very grateful to my farrier for telling me about your company! Thank You for a great product, Martha Schlesener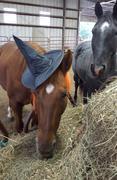 08/03/2020
shawn m.
United States
Perfect for our two horses!
We use this net every time. We like to get the extra big round bails and this net fits great! There is very little waste when using this net. This is our second net, the first one, from another dealer, didn't last long and didn't seem as sturdy as this one. We paid a bit more for this one, but it is better quality. So far we are very happy with our purchase. We will recommend this net to anyone considering using nets!
07/31/2020
Jennifer F.
United States
I have been using these nets for over 5 years now, they are convenient and slow my horses consumption down, they look healthier as well.
07/28/2020
D. Carter
United States
Highly Recommended
We have purchased 4 nets already. We highly recommend them.
Hay Saver!!
I don't generally feed round bales. They allow the horses to waste a ton, plus the amount of dust they inhale with their heads constantly in them. However, my husband and I are first responders and when Covid hit our community, we knew we would potentially be working 16 hour days. We needed to make sure our horses would be able to still be fed if we couldn't make it home. So we purchased this hay net and a few round bales. I was worried they would pull the netting off the bale, I didn't have a lot of faith in the tie at the bottom of the bale. So we put a ratchet step at the bottom of the bale. It wasn't until the next day did I realise that was unnecessary. Once they start pulling the hay through and the bale loosens and falls down around the netting, there's so much weight on the bottom that they couldn't pull the netting off. With that though. The netting is still very stretchy to accommodate more hay flaking loose and adapt to the horses nosing around to get the hay. The second picture is day 3. Day 3!! Look how much is not on the ground! My horses can definitely get impatient with the hay nets, as I have smaller ones that I use for flakes. The cheaper brands have definitely not made it though a week for me, but at the end of 3 weeks on one bale, I could not find one damaged spot. I am impressed and have recommended this net over and over again to friends. We checked the knot towards the end of the bales life and just retighted it once the bale was small enough to get to the knot. I will purchase again if this net ever dies on me.
Find a Retailer
Find out where to get our hay nets, and start using them today!
View Stores