Back to store
Round Bale Hay Net
Imagine improving your horse's health and worrying less about colic and ulcers. Picture spending less time feeding and more time doing what you love. Think about how much you spend on hay and cut that number in half.  Reduce waste, improve digestion and slow feed with our round bale hay feeder.
What's In the Box:

1 Knotted Nylon Mesh Net 1.75" Holes
Drawstring Closure

Slow Feed
Made in the USA
30 Day Exchange/Return
This slow feed hay net is perfect for round bales and large square bales. The Texas Haynet Round Bale Net helps prevent colic, founder, and ulcers by slowing down consumption to a natural pace. Regulating hay in take helps improve digestion, calms aggressive behavior, reduces herd stress, alleviates boredom and unwanted stable vices, prevents serious health problems caused by overeating and burrowing into the center of the bale.
With the Texas Haynet Round Bale Net, horses are no longer allowed to engorge themselves and frivolously waste expensive hay. The net is lightweight and easy to install - no heavy equipment required. 
*Use caution with shod animals.  We recommend using a round bale feeder with a solid barrier between the shoe and the net.  Use caution with horned animals and animals with ear tags. Use caution with small hooves when using nets with holes larger than 1.75".


Customer Reviews
10/03/2020
Christine E.
United States
Hay net
This has cut down on hay waste. It is easy to put on and the horses have not been able to tear it so far. Worth the money and I highly recommend.
09/20/2020
Nina C.
United States
Less Waste
Overall I like the haynet. It does reduce waste, however there's still a good bit at the end that the horses stomp and use the bathroom on. It's tough to empty out the last bit that gets left over and wasted when I'm ready to reuse it. The net doesn't seem to slow the horses down that much. A bale lasts about a week with four horses and a donkey with and without the net. Overall, less waste is worth it but I'd probably be happier if I also had it in a feeder.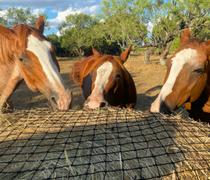 ❤️ the pic! Thanks for sharing. Using a hay feeder in conjunction with the net will definitely help keep them from using the bathroom on the last bit of hay. It will also help the net last longer because it keeps them off the net.
09/18/2020
Halina B.
United States
Love it
I feed squares and 800 lb bales. With bales, it's easiest to make a 3/2/1 pyramid shape and the pull the rope tight. Cut the twine and remove 1st. I'm way ahead on hay use and horses are eating and holding weight well. It will pay for itself, I don't have nasty hay around the ring to clean up
09/04/2020
TAmmi S.
United States
I love the Texas Hay Net
The hay net is amazing! I used to have piles of trampled hay around my bale feeder by the spring thaw, but with the net, there is minimal waste and I feed a third less hay through the winter. Plus, I have a couple of horses that gain weight by just looking at hay, so the net has curbed their overeating and weight gain significantly. I have used it for three years and is still in good enough shape to use this year. My horse herd has increased enough to require another feeding station and it was a no brainer to get a second net. Thank you for creating this very fine product. It has saved me hundreds of dollars and helped keep my herd healthy through the winter.
08/28/2020
Lou T.
United States
Great net!
This net is easy to slip on and I have so much less wasted hay!
Find out where to get our hay nets, and start using them today!
View Stores