Back to store
Small Hay Net
This slow feed hay net is perfect for a quick meal in the stall, snack in the trailer, or feeding station in the pasture.  Best for smaller flakes from 2 string square bales. Choose from 1, 1.5, or 3" holes.
Holds 2-4 Flakes
Nylon Mesh
Soak-able
Made in the USA
Use caution with shod animals.  We recommend elevating or placing this net in a solid feeder out of shoe reach.  Use caution with horned animals and animals with ear tags.

Create the safest, healthiest, most cost effective feeding solution on the market by pairing this kit with a Tarter Poly Corner Mount Hay Feeder. Together, both products eliminate waste and hay clean up.  Shop Tarter Poly Corner Mount Hay Feeder
Customer Reviews
08/03/2020
Samantha R.
United States
TB
01/21/2020
Tanya B.
We recently started using our Texas Hay net after trying a few other brands that did not hold up well. So far this one is #1 in make & quality!! My horses have been eating out of the 1.5" openings and have not torn or broken any of the net!! And that says a lot for my aggressive eaters! It really helps to slow down their eating and keeps them busy much longer! I will be ordering another small net so they will both have there own to eat from. I have been only using It at night for there evening feeding, but may start using for every feeding as there is little waste compared to feeding just a pile of hay! Also, love the easy to fill design! Well worth the money and very reasonably priced compared to other hay nets!! Will recommend to all my horse peeps!! ❤️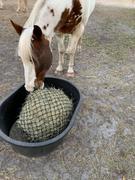 JB
06/20/2019
Jackie B.
I couldn't be happier and the change in my horses attitude and physical appearance is nothing short of amazing. Our horses seem to be way more content, and they are maintaining their body condition better than ever. Ours wear shoes so we did purchase a bale feeder. We also purchased small hay nets for the stalls, so when they are in there they can continue the "grazing". Make the investment, you and your horses will be happier
Find a Retailer
Find out where to get our hay nets, and start using them today!
View Stores