Back to store
Livestock Round Bale Hay Net
Picture spending less time feeding and more time doing what you love. Think about how much you spend on hay and cut that number in half.  Reduce waste and save time with our round bale feeder.

What's In the Box:

1 Knotted Nylon Mesh Net 3" Holes
Drawstring Closure

Made in the USA
30 Day Exchange/Return
Good for animals with vision or dental issues
Ideal for thick stemmed hay
The Texas Haynet Livestock Net is the perfect addition to your waste management program. Designed with cattle in mind, this hay net minimizes waste without slowing down intake. Bigger holes allow for easy access to forage while preventing livestock from squandering valuable hay. 
The net is lightweight and easy to install - no heavy equipment required. 

*Use caution with horned animals and animals with ear tags. Use caution with shod animals.  We recommend using a round bale feeder with a solid barrier between the shoe and the net (pictured and sold separately).  Use caution with small hooves when using nets with holes larger than 1.75".
Customer Reviews
11/14/2020
Tara R.
United States
Perfect!
We bought the 3 inch square net since we have a cow, donkeys, and horses and it's working perfectly! We are on our second roll. We have a tarter hay cradle. We put the net over the entire cradle then put the roll in and close it up. Waste is down to around 10% now. I highly recommend!
10/25/2020
Hilary W.
United States
Great hay-saving net!
I got this net for my horses. I live in a frigidly cold area and needed a free-choice hay net for my horses for winter hay. This net helps my hay last longer and stay together better without impeding the horses eating it too much. I put it inside a metal crown feeder. Prior to putting it in the feeder it does have one hole because my draft gelding is really hard on it.
10/21/2020
Holly V.
United States
Cattle Round Bale Hay Net
We absolutely love our new hay net. The cows were wasting so much hay and not cleaning it up. Getting the hay net we have gone to less than 5% waste. The cows were a little confused by it at first, but they learned very quickly how to use it. The only downside I have noticed is that most of the cows have lost their ear tags because they get them caught in the net.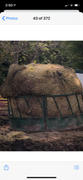 07/30/2020
Ray B.
United States
Happy Draft horse
All good my Draft horses.Are eating all they want to eat and not wasting Hay
AM
03/01/2020
Ashley M.
Question.... is it even possible to make a hole in these nets?? I've had 2 for 2 years now....and they have been left outside, stuck in mud, dug out of old hay, and they are still fully functional! I wont ever buy another net! Well...I guess with how long they last, I won't need to anyway!
Find out where to get our hay nets, and start using them today!
View Stores